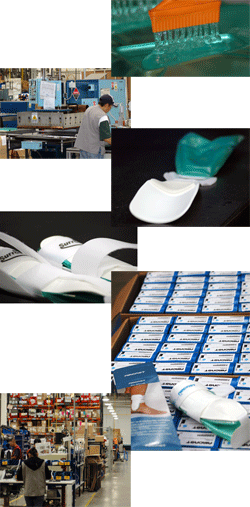 About Us
www.OrthopaedicsAndTruama.com is the internet brace and support store for patients to use with their GMC registered doctors. Simply click on the product section you are interested in to find out more information and help your patient shop effectively and securely Online.

Alternatively, measure your patient for the brace you recommend then ask them to order in the comfort of their own home.

OrthopaedicsAndTrauma.com is the trading name of ICD(UK)LTD a Medical Devices Company established in the UK since 1993.

ICD(UK)LTD and DJO UK Ltd have collaborated to provide doctors with the educational advice and equipment necessary for the prevention and treatment of many injuries. The Braces and Supports are manufactured under ultramodern conditions in ethical factories. The images to the right show some of the processes in the manufacture of the Aircast Surround Gel ankle brace.

OrthopaedicsAndTrauma.com talks to the doctors that rely on the quality of the Aircast, Procare and Donjoy products. Educational advice from these experts is then made available to you. Any further advice is often an internet click away from this site through the advice pages.

If there is a medical product that you frequently prescribe then tell us what you need. We will negotiate with DJO UK Ltd and place it in our online shop.